Alkaline Metal Cleaning Solutions
Alkaline cleaning solutions Include powerful cleaners and rust inhibitors used in multiple industries. If you have questions about a particular product, or want guidance on choosing the alkaline cleaning solution(s) that will most benefit your regular cleaning requirements, feel free to Contact Us for sales support.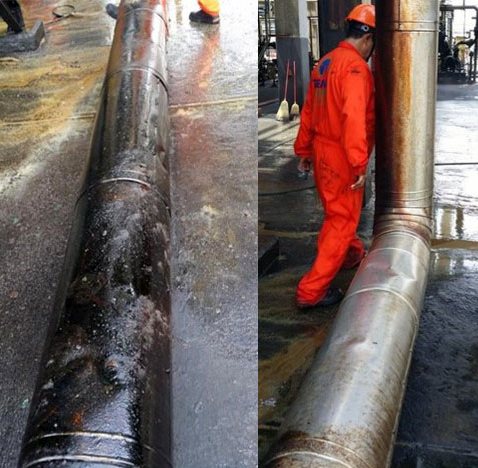 Duct piping before and after applying A-One's alkaline based cleaning solution.
RI-1000 RUST INHIBITOR
RI-1000 is a multi-purpose, water soluble rust and corrosion preventative designed for protecting ferrous materials. RI-1000 can also be used as a parts cleaner to remove dirt, oil, and grime from metal surfaces.
FIN FAN CLEANER
This safe, bio-degradable cleaner is tough on dirt, dust and grime that builds up overtime. Fin Fan Cleaner is a concentrated product that can be diluted, making the job more cost-effective.
DYNA-SOLV BUTYL DEGREASER
Dyna-Solv is a non-hazardous, paint-friendly degreaser concentrate. This product is perfect for cold water degreasing applications and is preferred by equipment rental companies for its clean, streak-free finish.
DYNA-SOLV HD DEGREASER
This caustic based water soluble degreaser cuts heavy crude oil, heavy fuel oil (#6) and grease like solvent. Heat is not necessary to activate the cleaning power of this superior biodegradable degeaser. Just spray it on cold and watch grease and grime melt away.
DYNA-SOLV 101
The best tank cleaning liquid detergent on the market today. This non caustic detergent can be used as a cold water degreaser, floor cleaner, and parts cleaner. Also very effective for cleaning walls and floors of wash pad areas, where oil stains accumulate.
ORANGE FURY
This concentrated, non-caustic detergent will cut bugs, road film, and grime. This product is biodegradable and works great with either hot or cold water when rinsed adequately. Orange Fury is ideal for cleaning tanks and equipment.